Backyard water fountains can be a great addition to your landscaping, but they can also look very plain and boring. There are a lot of options when it comes to decorating fountains; this article will help you choose some of the best ones!
Decorating Around a Water Fountain: What You'll Need
If you have a water fountain hiding in your backyard, there are many ways that you can decorate around it to create a beautiful and relaxing space. Here is what you will need to get started:
-Pebbles or rocks: To create a natural look, you can line the base of your water fountain with pebbles or rocks. This will also help to keep the water clean and clear.
-Plants: Adding some greenery around your water fountain will give it a fresh and inviting look. Choose plants that are known to do well in humidity, such as ferns, impatiens, or begonias.
-Lighting: Strategically placed lighting can really make your water fountain stand out at night. You can use solar lights, LED lights, or even tiki torches to achieve the desired effect.
With these simple supplies, you can transform your backyard into an oasis in no time!
Pond Ideas To Charm Your Water Fountain
A water fountain hidden in your backyard can be a charming addition to your landscaping. Here are some pond ideas to get you started:
1. Install a pond liner and fill it with water. Add rocks, plants, and fish to create a relaxing oasis.
2. Build a waterfall or stream that flows into the pond. This will add the sound of trickling water to your backyard retreat.
3. Place large stones around the perimeter of the pond to create a natural-looking border.
4. Add lighting around the pond to enjoy it at nightfall. Candles, tiki torches, or solar lights all work well.
5. Plant flowers and shrubs around the edge of the pond to give it color and life. Water lilies are especially beautiful when floating on the surface of the water.
With these pond ideas, you can transform your backyard into a tranquil oasis!
Fountains That Fit Your Home
If you're anything like me, you love the idea of having a water fountain in your backyard, but you're not quite sure how to make it work with your home's current design. If that's the case, then this list is for you! Below are four different ways to style a fountain so that it fits in seamlessly with your aesthetic.
1. Go for a classic look with a tiered fountain.
This type of fountain is elegant and timeless, making it a great option if you want your backyard oasis to have a classic feel. Plus, the multiple levels of the tiers create an eye-catching visual that will add interest to your space.
2. Keep it simple with a wall-mounted fountain.
If you're looking for a more understated option, then go for a wall-mounted fountain. This style is perfect for small yards or if you want to create a zen retreat in your own backyard. Plus, they're easy to install so you can get started on enjoying the relaxing sound of trickling water right away!
3. Make a statement with a floor fountain.
Floor fountains are definitely more of an investment, but they make such a dramatic impact in any outdoor space. They come in all sorts of materials and designs, so you're sure to find one that fits your style perfectly. Just imagine coming home after a
7 Garden DIYs Using A Water Fountain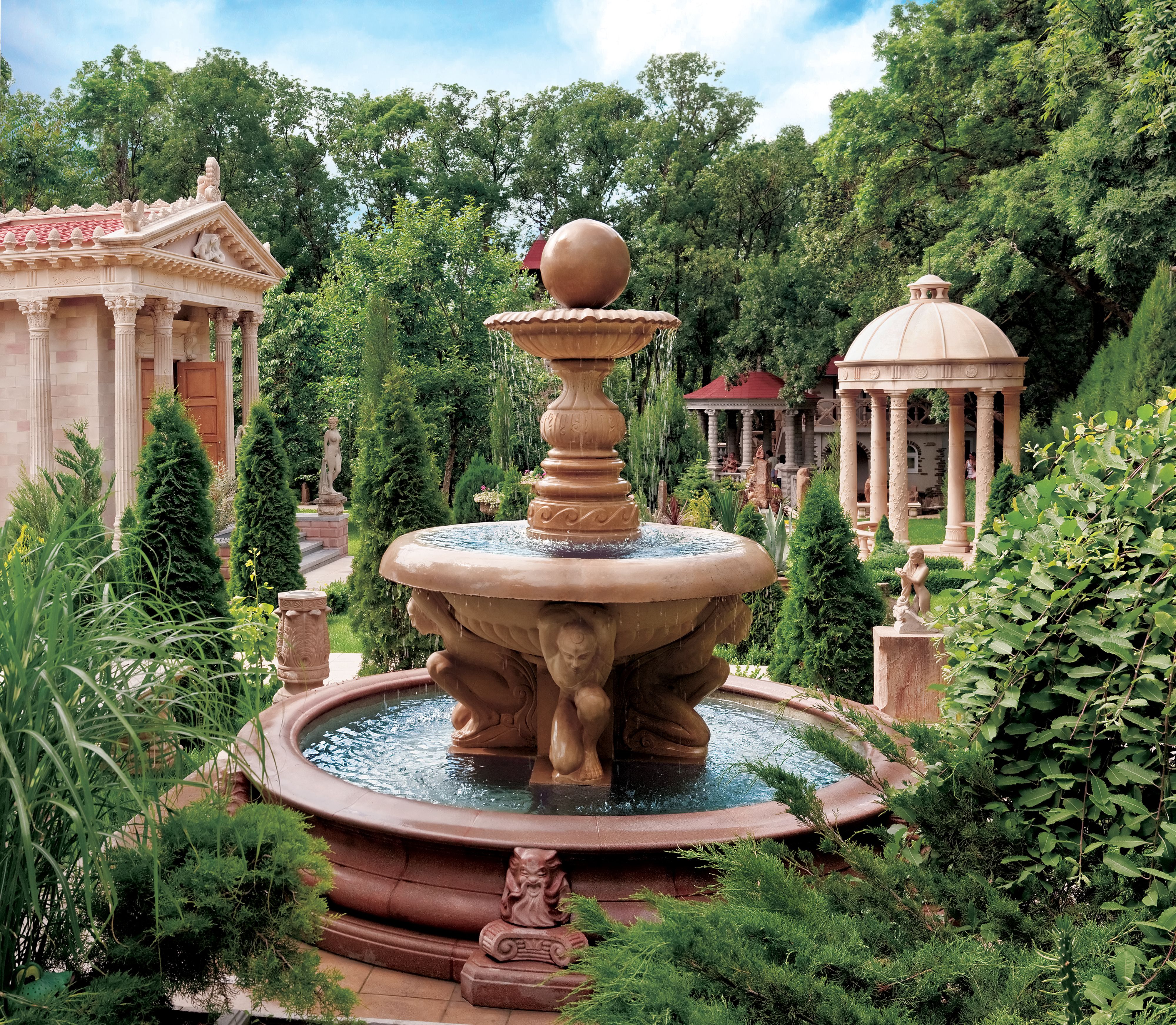 One of the best things about having a water fountain in your backyard is that it can serve as a great focal point for your garden. If you're looking for ways to spruce up your garden, why not try one of these DIY water fountain projects?
1. Make a drip water fountain: A drip water fountain is a simple and elegant way to add the sound of running water to your garden without taking up too much space. All you need is a ceramic or glass vessel, a small pump, and some tubing.
2. Turn an old wheelbarrow into a water feature: This is a great way to repurpose an old wheelbarrow that's seen better days. Just add a small pump, some rocks, and plants, and you've got yourself a beautiful and unique garden feature.
3. Create a rock waterfall: This project is slightly more involved than the others, but it's definitely worth it! Collect some rocks from your local landscape supply store (or maybe even dig them up from your own yard) and build a waterfall in your garden. You'll need some basic carpentry skills for this one, but it's not as difficult as it looks.
Wetland Style Contextual Fountains
There are many ways to incorporate a water fountain into your backyard landscape. One popular option is to choose a wetland style contextual fountain. This type of fountain is designed to fit in with natural surroundings, and can be a great way to add a bit of interest and flair to your yard.
When choosing a wetland style contextual fountain, it is important to consider the size and shape of your yard. You will also want to take into account the overall design of your home and landscape. Wetland fountains come in a variety of styles, so it is important to find one that compliments your existing décor.
Once you have selected the perfect wetland style contextual fountain for your home, you will need to install it properly. This type of fountain must be installed on level ground in order to function correctly. It is also important to make sure that the pump is properly placed in order to avoid any potential damage.