It's almost too late to make all the things you need to give before the holidays if you're anything like me. A homemade Christmas ornament will be an inexpensive but thoughtful gift, especially if it's hand-made by you! It will also be much appreciated by your friends and family who may have been hoping to receive some homemade gifts this year but didn't think they would have the time to make them.
Crafting Techniques
When crafting homemade Christmas ornaments, there are a few essential techniques you'll need to master:
You'll need to be able to cut out shapes from felt or other materials.
You'll need to be able to glue those pieces together.
You'll need to be able to add embellishments like beads or sequins.
With some practice, you'll be an expert at crafting homemade Christmas ornaments in no time!
Here's how:
1) Choose your favorite pattern for the shape of your ornament and cut it out with scissors.
2) Glue two halves of the ornament together and ensure they're aligned well (some recommend using a hot glue gun).
3) Add embellishments (such as ribbons, beads, and sequins).
4) Hang your ornament proudly on the tree or in your home!
Materials
You'll need a few materials to start crafting homemade Christmas ornaments: pipe cleaners, beads, buttons, ribbon, and hot glue. First, take a pipe cleaner and make a loop. This will be the top of the ornament where you'll hang it on the tree. Next, start threading beads onto the pipe cleaner. Once you have enough beads, make another loop at the bottom.
To keep everything together, use the ribbon you have and tie it around the loops. In the end, use a hot glue gun to attach buttons for decoration and whatever else you want.
Ways To Decorate Your Ornaments
Are you looking for a special way to decorate your Christmas tree this year? Why not try making your own homemade Christmas ornaments? It's a fun activity for all family members, and you'll end up with beautiful, one-of-a-kind decorations that will last for years. Here are the four steps to perfectly decorate your Christmas ornaments: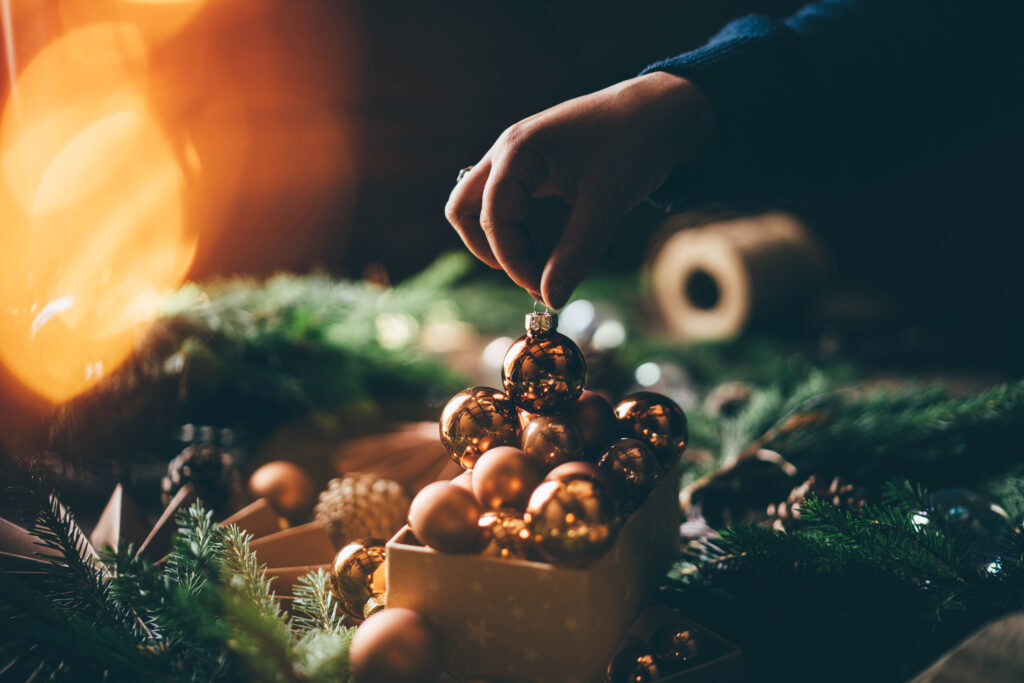 1. Use any decoration material (paper, fabric, ribbon, foam) to make these unique Christmas ornaments.
2. Fold the paper into the desired shape, then glue down one side.
3. After attaching both ends, trim away excess paper from the outside edges to create a neat seam at the bottom.
4. Tie ribbons around the top edge of each ornament and hang from the tree!
The great thing about making your ornaments is that you can save time and money using materials you already have around your house. Old maps, magazines, wrapping paper, and fabric scraps make beautiful decorations that reflect your unique personality.
By exploring ways to decorate ornaments with glue and ribbons, you'll discover an excellent way to make your tree look straight from a fairy tale!